"PLURAL" UNLV Barrick Museum of Art, 2018 Las Vegas, NV
BARRICK ART MUSEUM, Invitational group exhibition, Las Vegas, NV, 2018
East Gallery- Marjorie Barrick Museum of Art, curated by Interim Executive Director  Alisha Kerlin, UNLV Marjorie Barrick Museum of Art 
University of Nevada, Las Vegas. "Untitled #11" from the series MATTERS OF THE BRAIN, project ONCE OCEAN was exhibited at "PLURAL" a 2018 exhibition, selection of new acquisitions to the permanent collection at the Barrick Art Museum, UNLV, Las Vegas, NV. This piece (24.4″H x 70″W) was fabricated as a computerized jacquard loom woven cotton tapestries.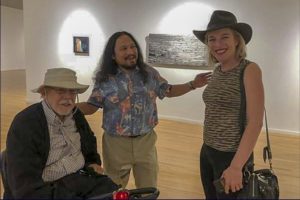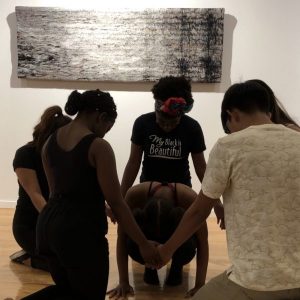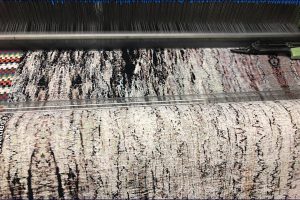 Plural features recently donated artworks from the UNLV Marjorie Barrick Museum of Art's permanent collection that explore complex aspects of human identity through a range of traditional and unconventional media. Memory, passion, voice, excess, race, gender, and intersectionality are all brought into question as we search for ways in which a museum collection can reflect our own multifaceted understanding of who we are.
This exhibition features artwork by China Adams, Linda Alterwitz, Audrey Barcio, Tim Bavington, Elizabeth Blau, Catherine Borg, Diane Bush, Gig Depio, Andreana Donahue, Jacqueline Ehlis, Justin Favela, Ash Ferlito with Matt Taber, Noelle Garcia, Nancy Good, Maureen Halligan, Clarity Haynes, Stephen Hendee, Brent Holmes, Bobbie Ann Howell, Alexa Hoyer, Eri King, Branden Koch, Fay Ku, Wendy Kveck, Eric LoPresti​, Julie Oppermann, Tom Pfannerstill, Krystal Ramirez, Kim Rugg, JK Russ, Sean Russell, Daniel Samaniego, Aaron Sheppard, Sean Slattery, Lance Smith, Brent Sommerhauser, Laurens Tan, Ryan Wallace, Mary Warner, Mikayla Whitmore, Thomas Ray Willis, Amy Yoes, and Almond Zigmund.